NCDXF Biography
Glenn Vinson, W6OTC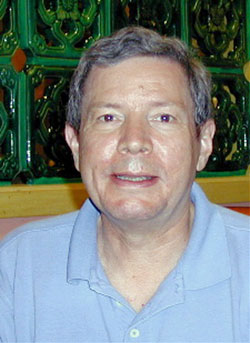 Glenn was raised in Dallas, Texas. An attorney, Glenn graduated from Columbia University and Harvard Law School.

In 1957, both Glenn and his Dad were licensed as Novices.

Glenn has held the following callsigns: K5KWB (1957-1971); W6OTC (1971-present).

Sporadic E openings on 6 meters in 1958 and 1959 sparked Glenn's budding interest in chasing DX. Way back then, Glenn used 5 watts to a 5-element beam at about 30 feet.

Glenn recalls that his first DX contact was Goose Bay, Labrador. After that, he was hooked. His first DX award was 6-meter WAC.

Ham radio took a backseat for Glenn between 1967 – 1988, but since then he has been an active DXer, to say the least.

Major radio interests for Glenn include DXing, of course, DXpeditions, and RTTY contesting.

Peripatetic Glenn has participated in DXpeditions to T31, YK, 8R, VK9L, HC8, HV and TY.

In addition to currently serving as a Director of NCDXF, Glenn has served as Vice President of the Northern California DX Club.

Glenn collects Asian art and is a Trustee of the Asian Art Museum of San Francisco.