NCDXF Biography
Ned Stearns, AA7A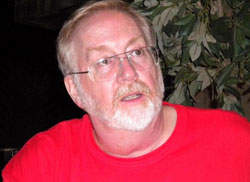 Ned Stearns was first licensed in August 1963 at age 12 in Warren, OH as WN8JWY. After receiving his Technician license in 1964, he operated primarily on VHF AM using home brew transmitters built from WW II surplus hardware and low-budget receivers. Ned moved to Phoenix, AZ in 1974 and caught the DX bug after running into a number of local hams with short callsigns who consistently beat him out in pileups on 10 meters. After meeting the local hams and joining the Central Arizona DX Association (CADXA) in 1975, he became incredibly radio-active. He was the first member of CADXA to conduct a DXpedition in 1979 to VP2A (AA7A/VP2A).

Over the course of Cycle 22 and 23, Ned managed to collect a number of operating achievement awards including Top of the Honor Roll, 5BWAZ, Satellite DXCC, and the first ever 11-band DXCC (160 through 2 meters, inclusive). His completely homebrew 2 meter EME station has been instrumental in achieving the top USA tally of grid squares on 2 meters. And, he is close to completing the elusive FFMA 6 meter grid square pursuit on the magic band.

He started participating in DXpeditions again in 1999 and participated in the DXpedition to Rodriguez Island, 3B9R. On this expedition, he introduced one of the first major six meter efforts in an HF DXpedition and netted almost 900 DX contacts from this remote island on six meters. In 2000, Ned was the principle station designer for the highly successful Kingman Reef DXpedition, K5K. His 6 meter station on the Kingman Reef DXpedition netted over 1,000 DX QSO's which exceeded the number made by the 160 meter station. Ned has been a proponent for including VHF activities on DXpeditions in order to add to the attraction of the DXpedition as well as to provide a means to participate among the ham population who operate the VHF bands.

In 2005, Ned joined the world-renown VooDoo Contest Group in their annual trek to Africa to participate in the CQWW DX CW contest from Mali as TZ5A. He caught the VooDoo bug and has continued to travel to West Africa yearly for the CQWW CW contest. He has been the station designer and is now the team co-leader of the VooDoo Contest Group. In addition to operating the HF contest in Mali, Guinea, Sierra Leone and Liberia he has assembled a 2 meter EME station that is included in the station equipment ensemble and has made hundreds of EME QSOs from these extremely remote DX entities in spare moments between station erection/de-erection and contesting. Recently, he has developed ultra-light antenna designs and support structures that produce fully-capable contest/DXpedition antenna systems that fit within airline baggage weight and size restrictions.

Ned received his BSEE from Purdue University in 1972 and has been employed at Magnavox, Motorola and General Dynamics where he is currently a Member of the Technical Staff. He designs, deploys, tests and develops maintenance methods for nation-wide, tactical communication and surveillance systems for US Government agencies. He is a past ARRL Vice Director of the Southwestern Division, current member of the ARRL DX Advisory Committee and the current President of CADXA.