NCDXF Biography
Don Greenbaum, N1DG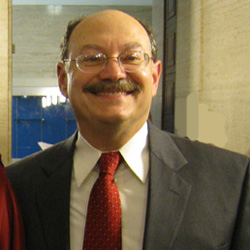 Don Greenbaum, N1DG, grew up in New York City and the NJ Shore. His father, WA2UDV, was his radio mentor and two other siblings also had their licenses by the time Don became WN2DND at age 11 in 1962. After Don advanced to WB2DND and became active in traffic nets and DX earning WAS and DXCC before going to college and becoming inactive for 10 years.

Upon his return to the bands after incentive licensing, Don to upgraded to Extra class as he continued his love of DXing and contesting. Today Don has worked all entities on mixed modes, and only needs P5 on CW. His mixed country total stands at 358 and he has DXCC on 9 bands and 5BWAZ. His Challenge total is 3,056. In 1996 he changed his call to N1DG.

Don was a banker in NY on Wall Street, and became Treasurer of Commodore International in the early 1980s. He wrote one of the very first ham radio logging programs in BASIC for the Commodore 64 and in the mid 1980s ported it to DOS for IBM compatibles. The job at Commodore took him all over the world and he began operating from exotic DX locations as well.

In 1986 he moved to New England and started his own computer company that exported computer components to Europe and the Middle East. It also wrote software and Don holds two patents on Machine Translation software. In 1989 he attended a trade show in Dubai and met Saeed who would become A61AD. Don has been operating from there ever since on his annual visits. Don still exports items to the Middle East but instead of computers, today it's sports and race cars.

Don has been on several major DXpeditions including VP8ORK, K4M and A52A. He has also operated as A61AD, A51DG, A73A, and /KH9, /VP9, /VS6, /BV2, /4X and /9V.

In 1997 he authored the web pages of VK0IR and posted online logs daily there were received via ham radio satellites. It was the first major DXPedition utilizing online logs and ushered in a new era for DXers. Since then he has been webmaster for over 50 dxpeditions.

In 2005 Don was honored at Dayton by CQ Magazine by being inducted into the CQ DX Hall of Fame.

In 2009 Don was one of the founding members of the CW Operators' Club (member number 2). He is also an active member of the Yankee Clipper Contest Club.