W6EEN Memorial NCDXF Scholarship 1998 Awardee
Elizabeth Pelczar, KA1SLD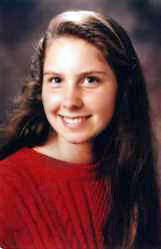 Elizabeth Pelczar is looking forward to starting her senior year at the University of Hartford, where she is working on a joint major in Chemistry and Biology with her concentration in Chemistry. Elizabeth spent her spring and summer working on a research project in inorganic chemistry, and in August she has been asked to give a poster presentation of her work at the American Chemical Society meeting in Boston.

This past year Elizabeth was inducted into Alpha Chi Honor Society, and in the fall she will be competing for the Rhodes and Martin Scholarships, both of which send a graduated student to England for two years to earn their Master's Degree.

Outside of the classroom Elizabeth has been a section editor for the yearbook for the past three years, and next year she will be the Business Manager. She has been the Vice President of Housing and Student Affairs for the Commuter Transfer Association as well as an active participant in the Red Key Society — the tour group at her university. Elizabeth uses her knowledge of chemistry to help others as a Supplemental Instructional Leader, Peer Tutor, and Teaching Assistant.

Elizabeth credits her father, who is also licensed, for sparking her interest in Amateur Radio, although her mom and sister are both licensed amateurs as well. Nine years ago Elizabeth received her Novice license on her birthday. Since then she has moved up to hold an Amateur Extra license and is also a Volunteer Examiner for both the American Radio Relay League and the W5YI group. She enjoys helping her dad with his school club and frequently visits or helps out at the exam sessions.

Elizabeth enjoys rag chewing, especially on ten meters, and is currently working on her DXCC award. Her two favorite contacts have been to the Canary Islands and Ascension Island.