W6EEN Memorial NCDXF Scholarship 2008 Awardee
Gregory Scott Davis, N3ZL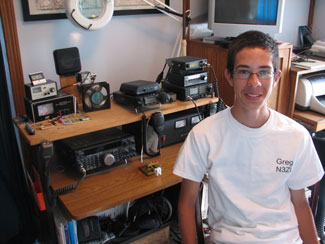 Gregory Scott Davis, N3ZL of Florence, South Carolina was first licensed in July 2004 and currently holds an Amateur Extra License. A recent graduate of Qwest Florence High School with a 4.479 GPA in predominantly honors level classes, Gregory will enroll at Clemson University to seek a degree in Electrical Engineering.

Gregory began as a ham using digital modes but currently devotes his daily operating to CW for DX and contesting. He is currently a member of the Florence Amateur Radio Club, FISTS, the North American QRP Club and ARRL. His interest in Amateur Radio began at age 9 and peaked at age 14 after a visit to a local air show where he saw radios in action. He upgraded to General Class three years later and as a shy young man turned from PSK and RTTY to the challenge of CW. He was truly bitten by the DX bug that has provided experiences in everything from geography to electronic theory, wave propagation and antenna design. The result of Gregory's development as a ham is a world of friendships across town and around the world.

Amateur Radio opened doors for Gregory as he applied his knowledge to his Eagle Scout project of assembling and installing a series of 2 meter antennas for Red Cross evacuation shelters over 13 months. This project qualified Gregory to win the coveted Hiram Percy Maxim award and considerable press locally, at the state level in South Carolina and in QST! Gregory hopes to pursue a career in RF circuit design.