W6EEN Memorial NCDXF Scholarship 1999 Awardee
Matt Biederman, N6NPP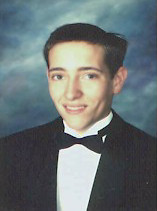 Matt Biederman is entering his senior year at the University of California at Los Angeles. He will graduate as a Computer Science major from UCLA's School of Engineering and Applied Science in June 2000, with a minor in Economics.

In addition to his course load, Matt works as an electronic hardware intern at Biomorphic VLSI, Inc., a company that designs imagers for digital cameras. Beyond graduate school, Matt has his eye on developing products and processes that will make a difference to creative professionals.

An active student-athlete graduating with high honors from high school, Matt is now an avid Bruins fan and he participates in intramural team sports. He plays competitive basketball, and enjoys running, hiking, fishing, golf and other recreational sports. Matt's favorite summer getaway to a family cabin in northern California's Calaveras County lets him combine most of these into one vacation.

Matt is not only a native Californian, but almost a native ham. He is a third generation amateur, sharing the radio interest of his grandfather, WB6NSJ (silent key), and father, WB6L. Matt was first licensed as a Novice as KB6HKG at age 6, and upgraded to a Technician and then a General license when he was 8. He took the 20 WPM code test the hard way -- before he knew how to spell very well — but it was easier for him than 13 WPM!

Matt likes DXing on 14 and 28 MHz using the family Collins equipment. His DXCC certificate stands at 160 countries confirmed, with 124 of those on 28 MHz and he has more than 40 more QSLs to submit. Matt has confirmations from the following NCDXF sponsored stations: ZL8RI, BQ9P, XZ1N, ZK1XXP, 3YØPI, VP8SSI, XW8DX, VK9ZM, XF4L, TN4NW, VK9JM, XZ1A, ZA1A, N2OO/KH9, AH6MM/WH9, K9AJ/KH5K, and WØRLX/KH5.

A member of the Conejo Valley Amateur Radio Club, Matt has enjoyed taking part in Field Day and transmitter hunts. On campus, Matt stays up to date with his amateur activities by reading the 59(9) DX Report and ARRL DX Bulletins.